The sound of an HP camera shutter that sounds " squeaky " for me and most people is a separate problem when I want to take a picture. That's why I always turn off the HP camera sound so it doesn't sound when it's used to take pictures or record.
Sounds that sound make you nervous because people around will know that you are taking photos. Not only because of nervousness, most people will feel uncomfortable because they are caught taking photos, whether it's just landscape photos or someone's photos.
In Indonesia, users can easily turn off the sound in the camera application and it will definitely turn off or won't sound. Whereas in some countries like Japan, you won't be able to do this.
For the sake of privacy in Japan, all cellphone cameras will sound so that people know that someone is taking their photos secretly. You can remove the HP camera sound not only in the default camera application, but you can also do it in third-party camera applications.
What is clear is that this concerns user convenience, the camera shutter sound setting must be in the camera settings. Unfortunately, there are still many who don't know how to deactivate it and there are still many who don't know which settings to deactivate.
Therefore, this time I will explain how to make the HP camera silent when used to take pictures and record videos. Before going to the method, you can read the solution for overcoming the reverse camera on Android , because this problem often occurs, who knows you will experience it too.
Steps to Turn Off or Disable Android Phone Camera Sounds
Step 1: You open the Camera application first
Step 2: After that, you access the menu and select Settings or Settings
Step 3: In your camera settings look for the Shutter Sound or Shutter Sound setting
Step 4: So that the camera shutter doesn't sound, please turn off or disable the Shutter Sound or Shutter Sound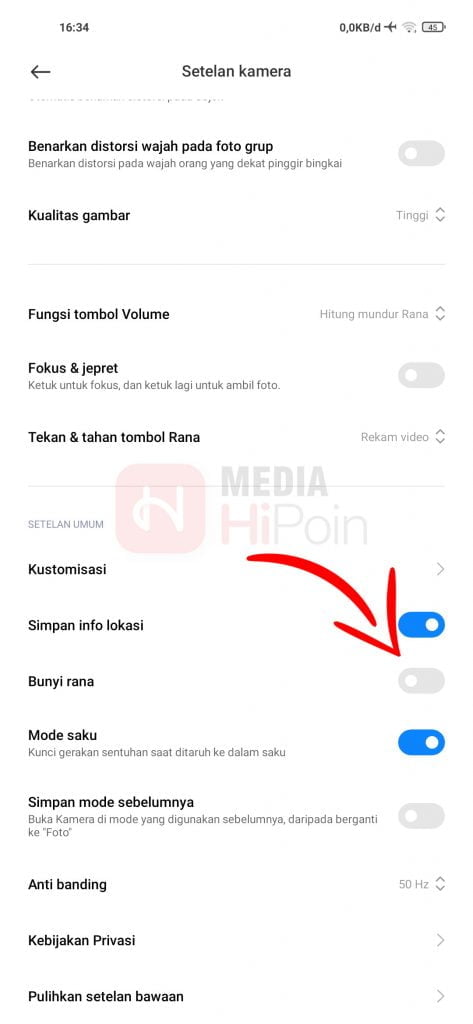 In short, Shutter Sound or Shutter Sound is the sound of the camera shutter when the shutter button is pressed. So you don't get confused if you want to turn off the sound on the cellphone camera or cellphone that you have.
Simply turn off the Shutter Sound or the Shutter Sound will normally no longer sound. For example, it has been turned off but still sounds, you can switch your device mode to vibrate or silent so that the shutter sound doesn't really sound.
Apart from how to turn off the sound of your cellphone camera, you also need to know the solution to overcoming not being able to record videos . There are several reasons why the camera application on the cellphone cannot be used to record, one of which is due to a bug .